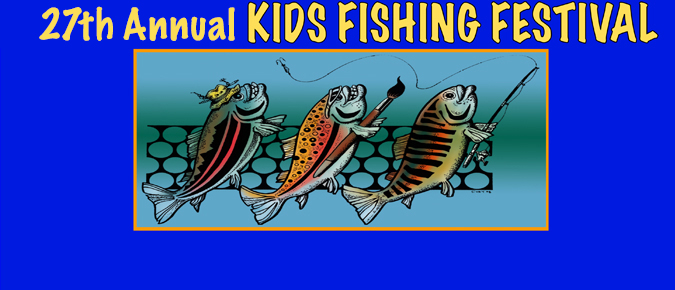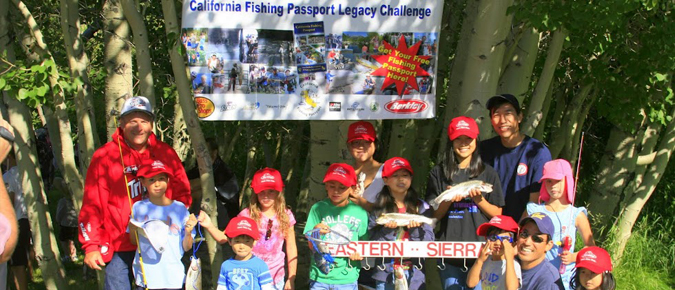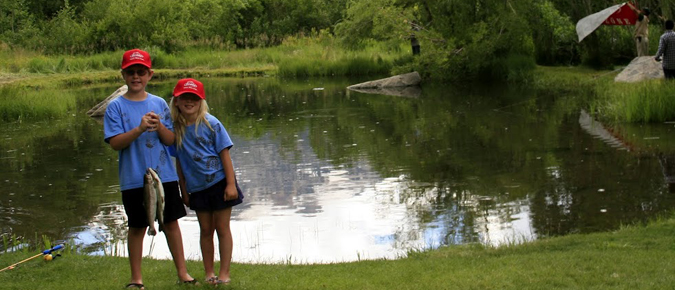 Welcome
Join us for the 27th Annual Kids Fishing Festival
Saturday July 26th 2014, 8am - 2pm
Mammoth Lakes, CA - Snowcreek Ponds, Old Mammoth Road
MONO COUNCIL FOR THE ARTS wishes to invite you to the 27th Annual Kids Fishing Festival to be held July 26th, 2014, from 8am to 2pm at the SnowCreek Ponds on Old Mammoth Road in the resort town of Mammoth Lakes, California. Locally famous 15 inch Alpers trophy trout will be stocked in these beautiful High Sierra ponds (with a couple of monsters added for fun) with Mammoth Mountain forming a picturesque backdrop. This popular event is FREE for kids 14 and under and will run from 8am to 2pm. Rods and reels are provided, you can bring your own or perhaps you will even win one! Come later, receive more individual attention from our guides, have lunch, and win lots more raffle prizes. Our fish keep biting all day long!
Fisheries staff from the California Department of Fish and Wildlife (DFW) will be available to lend a hand and teach children a little about California's trout fisheries. Every child will receive their own California Fishing Passport and fish identification book. Catch a fish and get special passport stamps in your book! A beautiful trout aquarium, provided by Hot Creek Hatchery, will be on display and loaded with enormous trout. Kids will receive information on the life of a hatchery trout along with a special coloring book and a junior fishing license. DFW is also bringing their popular "Fishing in the City" Program to teach kids about the joys of fishing. These wonderful volunteers will bring the loaner rods and reels and teach casting techniques. Our regional Game Wardens will be on hand to answer questions about becoming a warden as well as Smokey the Bear and his Forest Service buddies.
Fishing guides from the Eastern Sierra Fishing Guides Assn. will be assisting and teaching flyfishing and catch-and-release techniques. More guides from the Aguabonita FlyFishing Club in Ridgecrest will also be available to help and instruct. Aguabonita is catching the pond's aquatic insects and bringing microscopes so the kids can learn about entomology and the food sources for trout. There will also be fly tying lessons so the kids can make a fly, put it on their rods, practice fly casting with our expert guides, and then catch a trout! There is complimentary fish cleaning available so you can take home your trout and have it for dinner.
Mono Council for the Arts will have a T-shirt painting booth where kids can make trout imprints as a remembrance of their experience. There will be a giant 7ft. trout that the kids can decorate with chalk. And when each child registers, they will receive a raffle ticket with a chance to win numerous fun prizes throughout the day such as rods & reels, tackle boxes, trout coloring books, fun casting games and boat rentals for the family.
This annual event is fun for the entire family. The Lions Club supplies free coffee and donuts. Cocos Locos will offer snow cones and tacos for lunch. The Mammoth Fire Dept. will have their adorable old fire engine and talk about their Canoe Races and Picnic afterward on Saturday and Sunday. This is a family weekend in Mammoth not to be missed. Mammoth is presenting 3 FREE family festivals! Sunday is kids day and the Firemen's Picnic at Shady Rest Park. The Village at Mammoth Lakes has VillageFest with bands playing Friday evening and Saturday from noon to 10pm. VillageFest has California's highest Rib and Chili cook off, live music, a beer garden, and plenty of fun activities for all ages, Facebook.com/mammothvillagefest.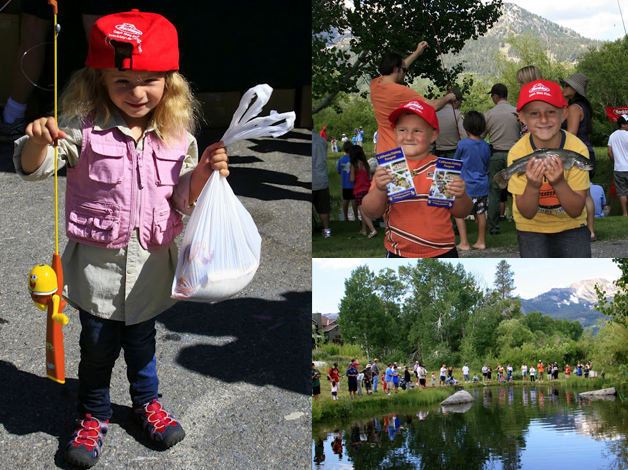 About
Festival Info:
The Kids Fishing Festival is sponsored by Mono Council for the Arts, the Eastern Sierra Fishing Guides Assn. and by Berkley/Pure Fishing who also brings lots of experienced guides, more loaner rods & reels and free gear. Additional funding comes from the Town of Mammoth Lakes and the Mono County Fisheries Commission. For more information, call Gaye at (760) 937-2942, email gaye@MonoArts.org or go to www.MonoArts.org or www.ESFGA.org.




---
Festival Events
Dept. of Fish & Wildlife:

Living Stream Aquarium Tanker

Passport Program

Fishing in the City Program

Junior Fishing Licenses

Loaner Rods & Reels

Casting Lessons

Trout T Shirt Painting

Chalk Up a Trout

Other Events: Trout Tshirt Painting, Fly Fishing Lessons, Entomology Booth Lunch and Drinks by Cocos Locos, FREE Coffee & Donuts while they last, FREE Fish Cleaning, More Loaner Rods & Reels, Continuous Raffle Prizes
---
Contact
Contact details:
Gaye Mueller- Event Coordinator
(760)937-2942
Mono Council for the Arts
Mammoth Lakes CA